December 24th, 2016, that's the last time the Cleveland Browns won a single game. It has been a historically embarrassing stretch for the players, coaches and fans alike. I'm not sure what it is about Cleveland but they just cant seem to get the team turned around. After this years draft and the emergence of Myles Garrett, the future has a little glimmer of hope. Knock on wood. The Browns have had huge names in their organization but Cleveland seems to be where QBs go to die. Johnny Manziel, Colt McCoy, Robert Griffin III, Jason Campbell and countless others have been leaned on by this team to turn things around and get Cleveland back on track. I truly hope they get it figured out, I think they might have done just that.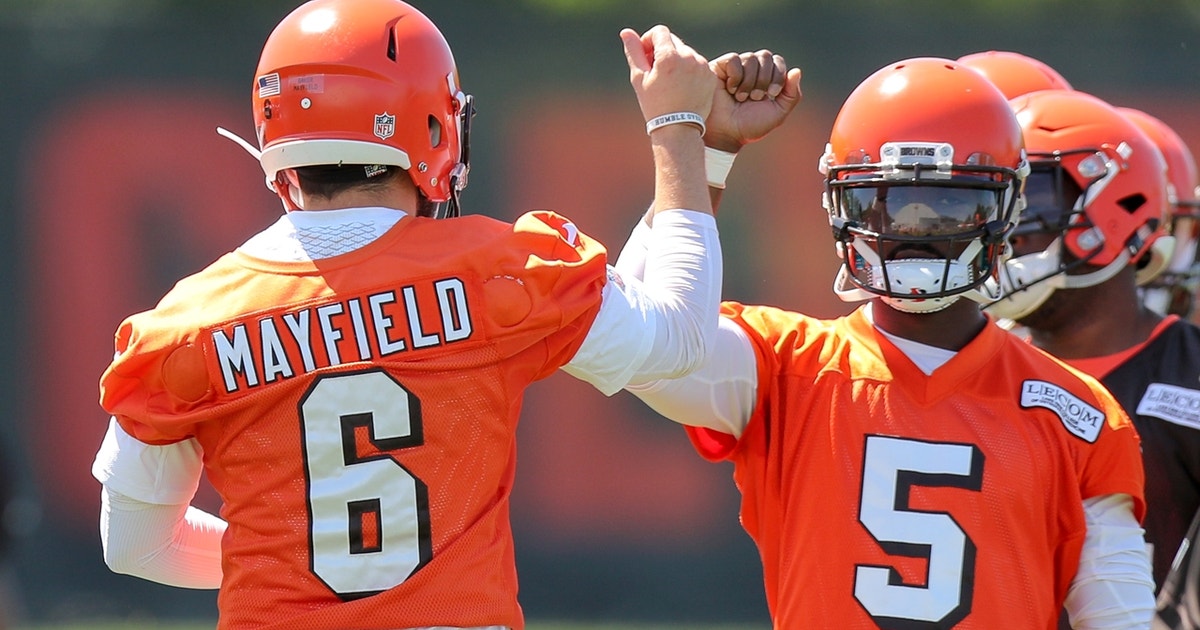 Heisman winner Baker Mayfield was drafted in the first round this year and they are letting him sit and watch how professional football is played, all while learning behind Tyrod Taylor. Taylor has done a pretty decent job this season as well, his best weapon is his ability to scramble and buy himself more time to find an open receiver or rush the ball himself. I think its best for Baker to really soak in everything and learn under an NFL veteran before being rushed out with all the pressure to start and win games.
The Browns had a massive talent in Josh Gordon who just couldn't seem to stay out of trouble, he was an absolute bolt of lightning on the field, fast as hell and reliable hands. In my opinion, if Gordon could've got his head on straight and focused on football instead of extracurricular activities, he could've been one of the greatest Cleveland Browns players of all time. He was just recently traded to the New England Patriots after he was suspected of showing up to the Browns facility under the influence of marijuana. Soon after that incident, the Browns had him on the trading block and received a conditional 5th round pick for the incredibly talented and incredibly risky WR. Below is the long, long, very long list of events in the troubled career of Josh Gordon, per weei.radio.com
"Oct. 7, 2010: During his sophomore season at Baylor, Gordon was found asleep in the passenger's seat of a car belonging to one of his teammates, who was also passed out. The vehicle was parked outside of a Taco Bell. Marijuana was found in the car, and both men were charged with misdeamanor drug possession.
July 25, 2011: Gordon is suspended indefinitely from the Baylor program, due to a failed drug test. Of course, there was far worse going on with Baylor at the time, as an independent investigation found the school protected its football players from sexual assault accusations.
Aug. 25, 2011: Gordon transfers from Baylor to the University of Utah, but didn't play during the 2011 season, because he declared too late for the 2011 supplemental draft.
July 12, 2012: The Browns select Gordon in the second-round of the 2012 supplemental draft.
2012 Season: This is the only NFL season Gordon has played in all 16 games. He finished his impressive rookie year with 50 catches for 805 yards and five touchdowns.
June 7, 2013: Gordon gets slapped with his first suspension for violating the NFL's substance-abuse policy. He misses the first two games of the 2013 campaign.
2013 Season: Gordon earns first-team All-Pro honors for his breakout season. He caught 87 passes for 1,646 yards and nine touchdowns.
July 5, 2014: Gordon is arrested in North Carolina for driving under the influence. He was speeding and had a blood-alcohol content level of .09, which is above the legal limit.
Aug. 27, 2014: Gordon fails another drug test and is suspended for the entire season for violating the NFL's substance-abuse policy. It is reportedly his fourth violation.
Sept. 12, 2014: Gordon's suspension is cut down to 10 games, due to the NFL's new (slightly) more lenient drug policy.
Dec. 27, 2014: Though Gordon returned for five games –– including a 120-yard performance against the Falcons in his first game back –– the Browns suspend him one game for violating team rules. He and Johnny Manziel reportedly missed the team's Saturday walkthrough that week.
Feb. 3, 2015: Gordon faces another year-long suspension from the NFL after testing positive for alcohol. Players in Stage 3 of the NFL's substance-abuse program submit to an alcohol screen as part of their random in-season drug testing.
April 12, 2016: Gordon's application for reinstatement is denied, because he failed another drug test.
July 25, 2016: The NFL finally reinstates Gordon, but suspends him for the first four games of the 2016 season.
Sept. 29, 2016: Gordon opts to go to rehab instead of returning to the field, leading him to miss the entirety of the 2016 campaign. Gordon told GQ he decided to enter rehab after being told there was a warrant out for his arrest for failing to comply with a paternity test.
May 11, 2017: The NFL denies Gordon's latest petition for reinstatement.
Nov. 6, 2017: Bombshell GQ interview drops, where Gordon details for his long history of substance-abuse for the first time.
Nov. 30, 2017: Gordon is activated off the commissioner's exempt list and eligible to play. He appears in the Browns' final five games, catching 18 passes for 335 yards and a touchdown. Amazingly, Gordon was on pace for a 1,000-yard season if he played the full 16 games, showing his incredible skill level hadn't waned.
March 13, 2018: Browns sign Gordon to a one-year, $790,000 deal. The Patriots are on the hook for the remainder of his salary, and can tender him at the end of the season. If Gordon plays well, he is a bargain, which probably contributed to Belichick's interest in him.
Training Camp 2018: Gordon misses the bulk of training camp due to mental health issues. He returns at the end of August.
Sept. 9, 2018: Gordon plays in Cleveland's Week 1 tie against the Steelers, catching the game-tying touchdown pass late in the fourth quarter.
Sept. 15, 2018: The Browns rule out Gordon for Week 2, and announce their intentions to trade or release him.
Sept. 17, 2018: Patriots acquire Gordon for a fifth-round pick. They will get a seventh-round pick from the Browns if Gordon doesn't appear in 10 games."
Now with Josh Gordon gone from the program, the Browns will lean on Jarvis Landry to lead the receiving core, and he is more than capable of doing so if he can remain healthy. Coming from Miami as their #1 target, he is the new #1 in Cleveland. If Tyrod can work on his accuracy a bit, the Browns have a capable receiving core with Landry, speedster Antonio Callaway and other pieces. I'm also truly looking forward to seeing what Baker Mayfield can do when the torch is passed to him based on the history of Browns quarterbacks.
First overall pick in the 2017 draft Myles Garrett has panned out so far. He is a true pass rusher with the size, speed and moves, to get to the quarterback and create pressure, interceptions and turnovers.
In 11 games of his rookie year, Garrett had 19 total tackles, 12 assists, 7 sacks to go along with a forced fumble and fumble recovery. In the first two games of this season he already has 6 total tackles, 1 assist and 2 sacks. I expect Myles to continue to perfect his craft and become a true force in the NFL for years to come. The Browns hit with the 2017 pick out of Texas A&M.
With the matchup tonight against the New York Jets, I think Cleveland has a great chance to win for the first time in almost two years. Expect Myles Garrett to be all over rookie quarterback Sam Darnold and stuff the run game. If Tyrod can steer clear of too many mistakes and just put the ball where it needs to be and pick up some first downs with his feet, I see the Browns walking away a 23-20 victor in this Thursday night matchup. Good luck Cleveland. I'm cheering for ya.