By now even the casual fan of college football has a good grasp on how poor player development was under Butch Jones during his time at Tennessee. Jones and company were akin to great anglers who could haul in trophy fish with ease but couldn't turn that fish into a meal. Some of the premier prospects quickly figured out the jig and bolted for greener pastures. One of those players was a 5-star phenom by the name of Jalen Hurd.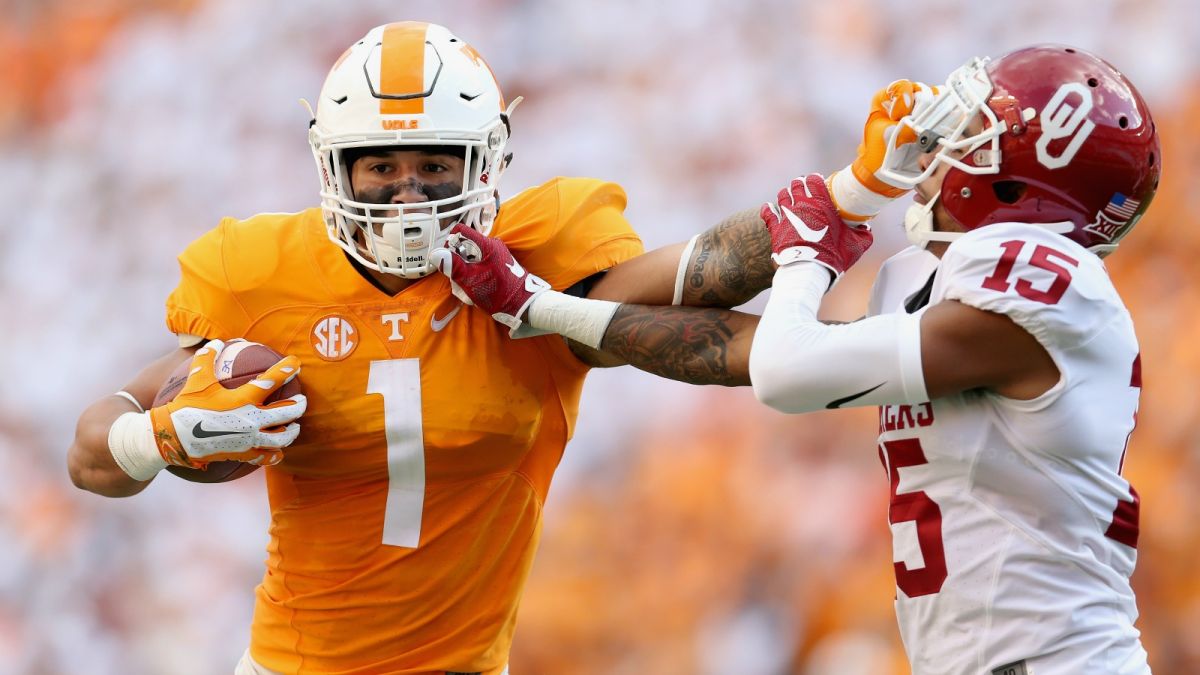 Hurd was the signature signee of Butch Jones' inaugural class. The electric running back out of Hendersonville, Tennessee was the top recruit from the state. His junior season, in the state championship game he ran for 346 yards and seven scores. He ended the season with 3,456 yards and 36 touchdowns setting the single-season rushing record in Tennessee. I know these stats well as it was against my alma mater that he did this. I was one season removed from playing, so I got to witness him destroy a bunch of my friends. It was breathtaking to watch. He was unstoppable, and it convinced me that he would be an all-time great not only in college but the NFL as well.
For a running back, he was huge. At 6'4 245 lbs, he was similar in size to Derrick Henry but somehow looked more lean and agile. He used that frame to punish defenders by lowering his shoulders and churning his feet. He rarely finished a run by going backward. I have yet to see a 40-time published for him but there was that freakish video of him running 23 mph on an inclined treadmill. I'd be willing to guess he can clock a sub 4.5 forty-yard dash. Speed is his unnoticed skill. His size gets him caught up in a lot of plays, so his speed never really stood out in Knoxville. The system he ran out of at Tennessee was very ill-suited for his skill set. He has downhill speed, meaning he needs to be lined up 7-10 yards off the ball so he can generate enough momentum to burst through the hole. Most of the time he was running out of pistol sets which had him offset from the quarterback and taking the ball at about 4-5 yards. As a result, he would get caught in the hole or behind the line of scrimmage. It was rare to see him burst out of a hole unscathed and racing down the field. Butch Jones' unwillingness to adapt to his player's skills badly hurt the Volunteers chances of success. His stubbornness to stick with one player also hurt their chances as they had the running back that fit their system, Alvin Kamara. He shined once Hurd transferred mid-season, and he rode that wave of success into an Offensive Rookie of the Year award in the NFL. All this is to say that Hurd was an immensely gifted athlete and a highly intelligent player. He was on pace to shatter the rushing record at Tennessee. In roughly two and a half seasons he finished 6th all-time in Tennessee's record books.
Now jump to this season, and he's the primary receiver for the Baylor Bears. He leads the team in receiving through three games and has looked like a natural receiver.
He still has some issues he needs to work through. The primary concern is dropped passes. He had three drops in week three against Duke which is a little concerning, but a couple of them were on tough plays. Through four games, however, he leads the team with 311 receiving yards. Once he becomes more comfortable at the position, he'll be a monster. It's indeed a testament to the sort of athlete this kid is. If he can go from being a 1st round caliber running back for an SEC team to a wide receiver with NFL potential all within two years, then what else can he do?
-Contributing Writer Jonathan Essaff